Antioxidant & Wellness Boost
Introducing our Chaga capsules, the King of Mushrooms! Unleash the incredible power of Chaga mushroom capsules to enhance your health and wellness. Brimming with antioxidants and an array of benefits, these capsules serve as your ultimate weapon in the battle against free radicals.
Explore the potential advantages of Chaga capsules:
Unmatched antioxidant protection:

Chaga mushrooms possess one of the highest antioxidant values in any food, shielding your cells from harm.

Age gracefully:

Delight in Chaga's acclaimed anti-aging properties, promoting a youthful radiance inside and out.

Stress less:

Chaga mushroom capsules help you achieve balance, alleviating stress and fostering mental clarity.

Lower cholesterol:

Bolster your cardiovascular health by maintaining optimal cholesterol levels.

Fight inflammation:

Counteract inflammation throughout your body for improved overall well-being.
Choose our exceptional Chaga mushroom capsules and savor the benefits of a Vegan, Non-GMO, and Gluten-Free formula that suits diverse lifestyles and dietary preferences. Each capsule features 500 mg of high-quality, sustainably sourced organic Chaga mushrooms (Inonotus obliquus), ensuring you receive only the finest product available. Our steadfast commitment to excellence guarantees the ultimate Chaga mushroom supplement experience. Simply consume two capsules once per day, with or without food, or as advised by your healthcare professional.
Elevate your health journey with our premium Chaga capsules. Stay Wyld and immerse yourself in the extraordinary benefits of Chaga mushrooms, conveniently delivered in a single capsule. Don't let the incredible power of nature's finest mushrooms pass you by. Order your Chaga capsules today and welcome a healthier, more vibrant version of yourself!
Chaga Mushroom Capsule Ingredients:
Organic Chaga Mushrooms (Inonotus obliquus)
Read more about our Chaga Mushroom Capsule ingredients below and
learn more about Chaga Mushrooms here
!
*These statements have not been evaluated by the Food and Drug Administration. This product is not intended to diagnose, treat, cure or prevent any disease.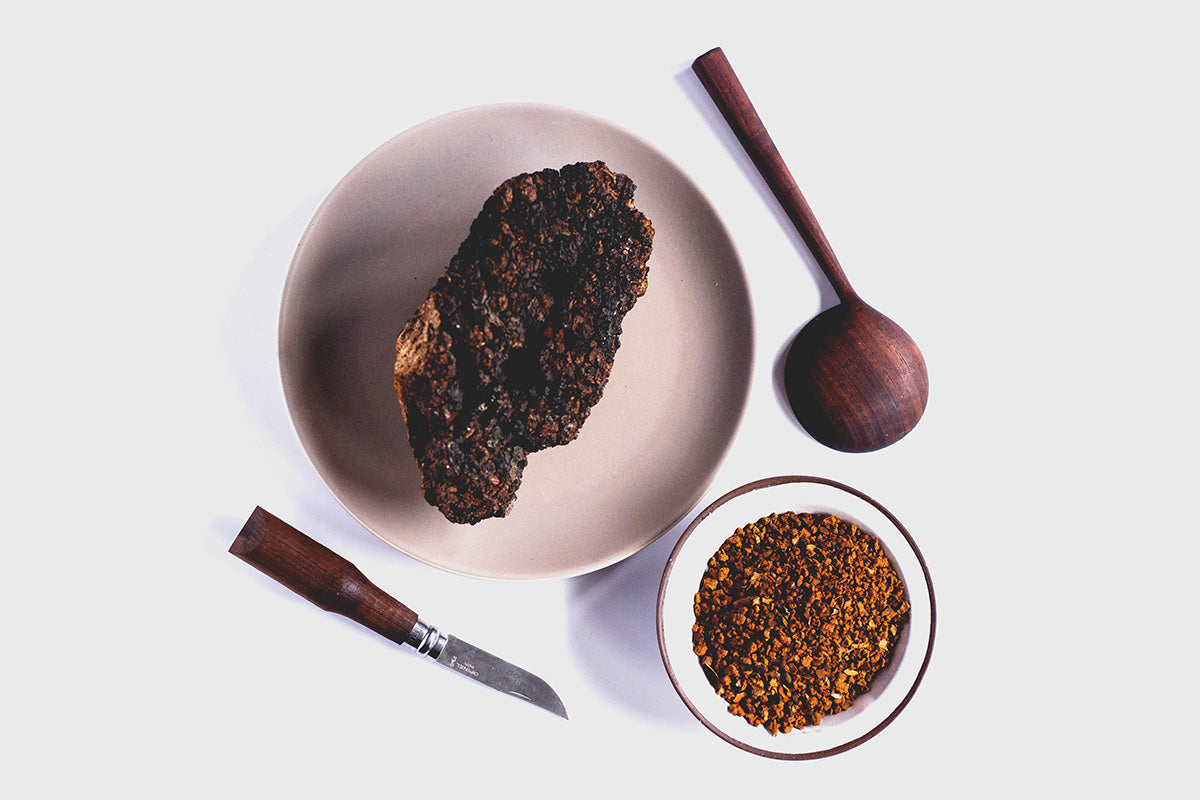 More About
Chaga Mushroom Capsules
Frequently Asked Questions
No they will not. None of our functional mushroom products contain psychoactive compounds.
Our mushrooms are certified organic by Pro-Cert. We follow the strictest organic guidelines in the world.
Stay Wyld's commitment to provide you with the healthiest and highest quality mushroom products available starts at our state of the art mushroom grow facility in BC, Canada. Canadian food products adhere to high standards and levels of control. We are able to control the entire process here to ensure the highest quality mushroom products for you. Just like you, we want to know where our food and supplements actually come from.
The shelf life of Stay Wyld mushroom powder products is four years from initial processing. Our Grow Your Own Kits have a shelf life of 6-8 months if stored in a refrigerator.
Daily health !
Add this powder to my smoothie daily and it's awesome.
Love my Chaga
These capsules are the best. I take a bottle everywhere I go. So many health benefits from Chaga, that's why they are part of my everyday routine.
I really notice how they have helped rid my body of inflammation.
Absolutely the best chaga mushroom
Absolutely the best chaga mushroom powder thus far! excellent packaging, dark glass jars. Perfect.
Love Chaga powder in my coffee every morning
Absolutely love this product and brand. Highly recommend.
Thanks Nic! We're flattered you're adding Stay Wyld Organics Medicinal Mushrooms to your daily routine!