Potent Immune System Support
Daily Immunity 5-Blend Powder
Our Daily Immunity Blend is a blend of our top 5 functional mushrooms. We often only address our health by only reacting when something goes wrong. Sometimes we leave it up to chance. Because the nuances in our general health and our exposure to pathogens go mostly unseen, it's way too easy to forget about our vulnerabilities until we wish we hadn't. Stay Wyld's Daily Blend immune support mushroom powder will help you keep your immune system strong.
Introducing our Daily Dream Team! We've got the antioxidant super-dose of Chaga, the energy balancing properties of Reishi, and the defensive systems of Turkey Tail. Lion's Mane's brings its cognitive boost and brain support, while Cordyceps focuses on the adrenals, blood flow, and hormone regulation. And what do all of these functional mushrooms have in common? Massive immune system support! Name a better squad to help you Stay Wyld and healthy.
Ingredients:    
100% Sustainably Harvested Organic Wild Canadian Chaga (Inonotus obliquus)
Organic Cordyceps Whole Mushroom Powder (Cordyceps militaris)

Organic Lion's Mane

 Whole Mushroom Powder (Hericium erinaceus)
Organic Reishi Whole Mushroom Powder (Ganoderma lucidum)

Organic Turkey Tail 

Whole Mushroom Powder (Trametes Versicolor)

Read more about our mushroom immunity blend ingredients below.
*These statements have not been evaluated by the Food and Drug Administration. This product is not intended to diagnose, treat, cure or prevent any disease.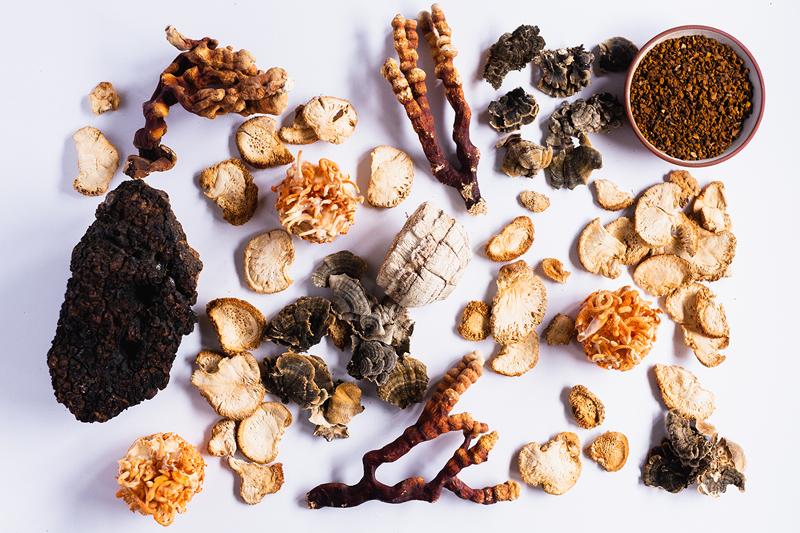 More About
Daily Immunity 5-Blend Powder
Frequently Asked Questions
No they will not. None of our functional mushroom products contain psychoactive compounds.
Our mushrooms are certified organic by Pro-Cert. We follow the strictest organic guidelines in the world.
Stay Wyld's commitment to provide you with the healthiest and highest quality mushroom products available starts at our state of the art mushroom grow facility in BC, Canada. Canadian food products adhere to high standards and levels of control. We are able to control the entire process here to ensure the highest quality mushroom products for you. Just like you, we want to know where our food and supplements actually come from.
The shelf life of Stay Wyld mushroom powder products is four years from initial processing. Our Grow Your Own Kits have a shelf life of 6-8 months if stored in a refrigerator.
Amazing Product
I've been taking these supplements for one month and I feel amazing. I feel focused and energized every day. Love this brand and their products.
Excellent product
I have been taking this for a month, I feel great, strong and healthy. It's easy to take and fits my lifestyle.
So far so good!
Just started taking this product, but I have noticed some improvement in my focus. Will be excited to see what further advantages may be to come. I also appreciate the product is grown and manufactured 100% in Canada!
Daily Immunity
Cannot say enough about this product ... I'm feeling great!!
Stay Wild for the win!
After only a few days, I could feel a difference in my energy levels as well as less brain fog. So happy with this high quality product!