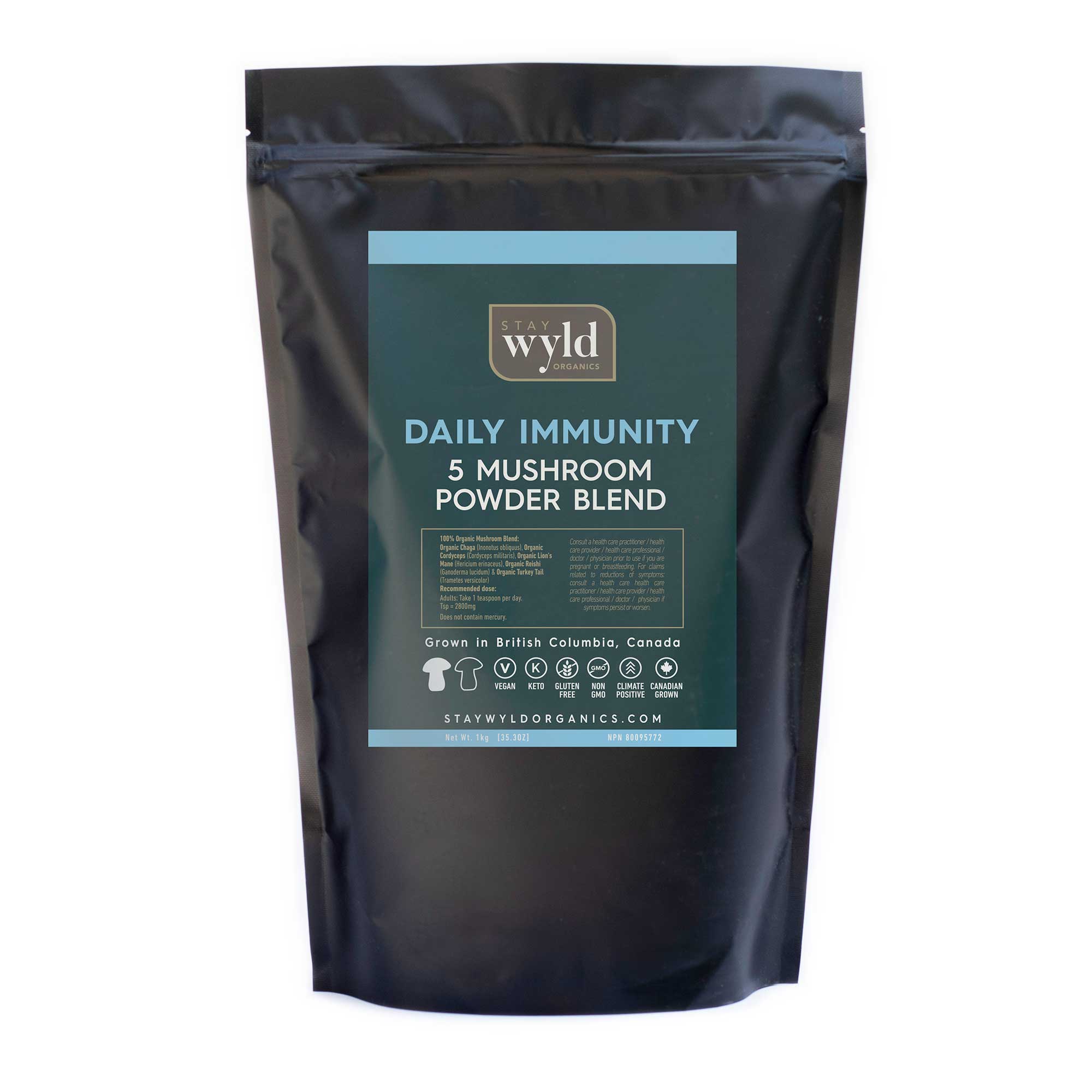 Potent Immune System Support
Daily Immunity Blend Powder (1kg)
Don't wait for something to go wrong: keep your immune system strong with Stay Wyld's Daily Blend mushroom powder! Our natural and organic blend of adaptogenic mushrooms provides powerful polysaccharides, micronutrients, and other nutrients that support healthy immunity, reduce stress and fatigue, and promote overall vitality. 
Our Daily Dream Team Mushroom Blend of Chaga, Reishi, Turkey Tail, Lion's Mane, and Cordyceps is grown Organically, Vegan, Non-GMO & Gluten-Free to meet all of your dietary needs. 
Benefits of our immune blend powder: 
Recovery from Mental Stress

Resilience Following Physical Stress

Healthy Aging

Immune Function

Memory, Focus, and Clarity

Nerve Health

Energy, Vitality, and Endurance
Key Ingredients:
Experience the unbeatable mushroom health benefits today, and get the immune support you need to Stay Wyld and healthy!
Read more about our mushroom immunity blend ingredients below.You can also learn more about all our mushroom species at our Mushroom Learning Center!
----
Ingredients: Medicinal ingredients: Sustainably Harvested Organic Wild Canadian Chaga Fruiting Bodies (Inonotus obliquus), Organic Cordyceps Mushroom (Cordyceps militaris), Organic Lion's Mane Mushroom (Hericium erinaceus), Organic Reishi Mushroom (Ganoderma lucidum), Organic Turkey Tail Mushroom (Trametes Versicolor)
Bag Quantity:

1 Kg

Serving Size:

Adults: Take up to 1 teaspoon per day. Tsp = 2800mg

Gluten free.

Does not contain mercury.

Non-medicinal ingredients: Carboxymethylcellulose (vegetable capsule), magnesium stearate, Consult a physician / health care professional prior to use if you are pregnant, breastfeeding or for claims related to the reduction of symptoms should they persist or worsen. Take with food to avoid digestive upset.
*These statements have not been evaluated by the Food and Drug Administration. This product is not intended to diagnose, treat, cure or prevent any disease.
Frequently Asked Questions
No they will not. None of our functional mushroom products contain psychoactive compounds.
Our mushrooms are certified organic by Pro-Cert. We follow the strictest organic guidelines in the world.
Stay Wyld's commitment to provide you with the healthiest and highest quality mushroom products available starts at our state of the art mushroom grow facility in BC, Canada. Canadian food products adhere to high standards and levels of control. We are able to control the entire process here to ensure the highest quality mushroom products for you. Just like you, we want to know where our food and supplements actually come from.
The shelf life of Stay Wyld mushroom powder products is four years from initial processing. Our Grow Your Own Kits have a shelf life of 6-8 months if stored in a refrigerator.
Daily Defend
Good product mainly in the area of energy and cognitive function definitely will buy again
Good product
This is actually the first supplement that I've noticed any difference in my energy. It is much improved.
Daily Immunity 5 Blend
I've been taking these for a few weeks now, enjoying the benefits of the 5 blend, great product, highly recommend.
Looking forward to the future
Enjoying the 'tasteless' mushrooms as I'm not a mushroom eater. Capsules are easy to swallow. I appreciate they are organic and a Canadian company. A nice addition to my daily regimen.
Daily Immunity Blend
Great value!! We love that the mushrooms aren't grown in China.