Cordyceps Mushroom Powder
Our Cordyceps Powder is the ultimate solution for those looking to energize their daily lives. Bursting with vitality, this potent cordyceps extract is perfect for athletes, professionals, and everyone in between. So what benefits can our Cordyceps mushroom powder provide?
Enhances athletic performance:

Boosts stamina, endurance, and oxygen utilization for improved physical capabilities.

Supports immune function:

Fortifies the immune system with its immune-enhancing properties, helping you stay healthy.

Promotes heart and kidney health:

Contributes to overall well-being by supporting these vital organs.

Increases libido:

Known for its aphrodisiac properties, Cordyceps can help revitalize sexual vigor and performance.

Natural energy enhancer:

Improves energy management, providing a sustained boost throughout the day.
Don't let life's challenges hold you back. If you're looking to kick-start your physical life, our Cordyceps powder supplement is the functional mushroom that'll help you Stay Wyld and energized.
How to Use:
Easily incorporate 1 teaspoon per day of Cordyceps powder into your favorite smoothies, teas, or recipes for a nourishing and energizing addition.
Cordyceps Powder Ingredients:
Organic Cordyceps Mushrooms (Cordyceps militaris)
Read more about our Cordyceps Mushroom Capsules ingredients below and learn more about Cordyceps Mushrooms here!
*These statements have not been evaluated by the Food and Drug Administration. This product is not intended to diagnose, treat, cure or prevent any disease.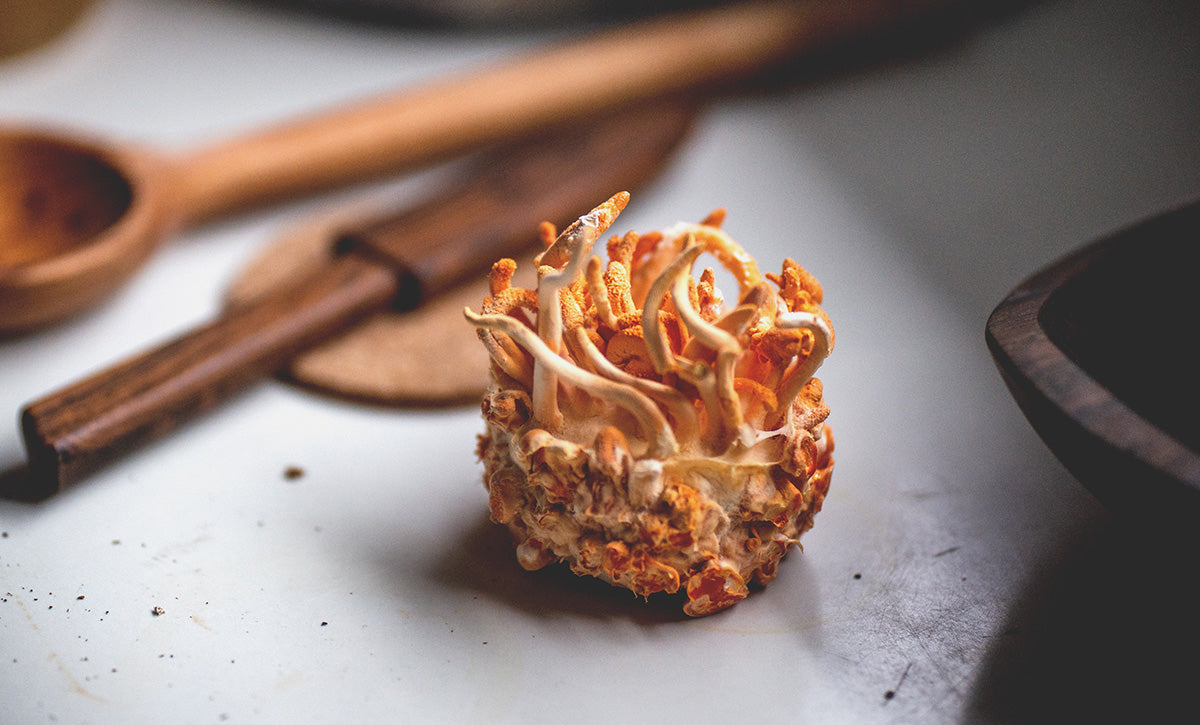 More About
Cordyceps Mushroom Powder
Frequently Asked Questions
No they will not. None of our functional mushroom products contain psychoactive compounds.
Our mushrooms are certified organic by Pro-Cert. We follow the strictest organic guidelines in the world.
Stay Wyld's commitment to provide you with the healthiest and highest quality mushroom products available starts at our state of the art mushroom grow facility in BC, Canada. Canadian food products adhere to high standards and levels of control. We are able to control the entire process here to ensure the highest quality mushroom products for you. Just like you, we want to know where our food and supplements actually come from.
The shelf life of Stay Wyld mushroom powder products is four years from initial processing. Our Grow Your Own Kits have a shelf life of 6-8 months if stored in a refrigerator.
It's like cheating
So awesome I feel like I'm cheating when I go for a run
Energy and mental clarity
I bought this for energy for my workouts and to help with effects of entering peri-menopause years.
So far I notice a difference on days I take it and feel better :)
Cordyceps
I honestly feel like I have a little more energy through the day.
Before and during a big day
If I'm heading out for a big day in the mountains on my skis or on my bike I take Cordyceps. I really notice the athletic performance boost I get.
Mushroom mornings ! !:grinning:
Loved the medicinal mushroom powder Cordyceps product, a quarter teaspoon of Cordyceps mixed with a quarter teaspoon Lion's Mane in my coffee every day and it really adds to energy and mental sharpness for the day. As an artist and a writer at 65, Mushroom powders have been a great help in creative thinking and the completion of projects after 3 months of every day use. My own formula for the morning rounds out with a small healthy breakfast and taking two tumeric supplements and Focus Factor brain vitamin ! ! Thank you for the creative boost Staywyld !:sunglasses:Keith B.
Thank you so much for sharing how you use your Stay Wyld Organics mushrooms!