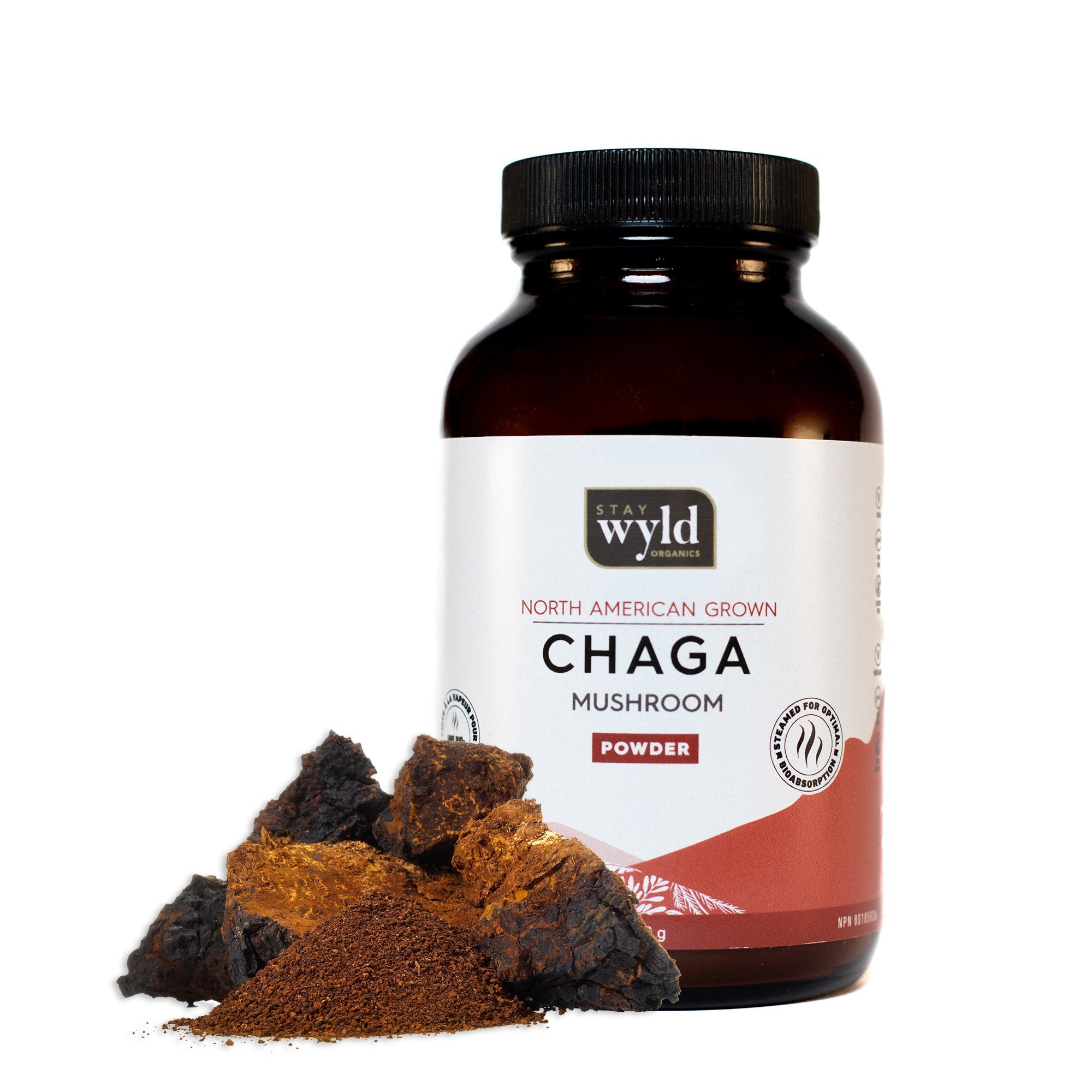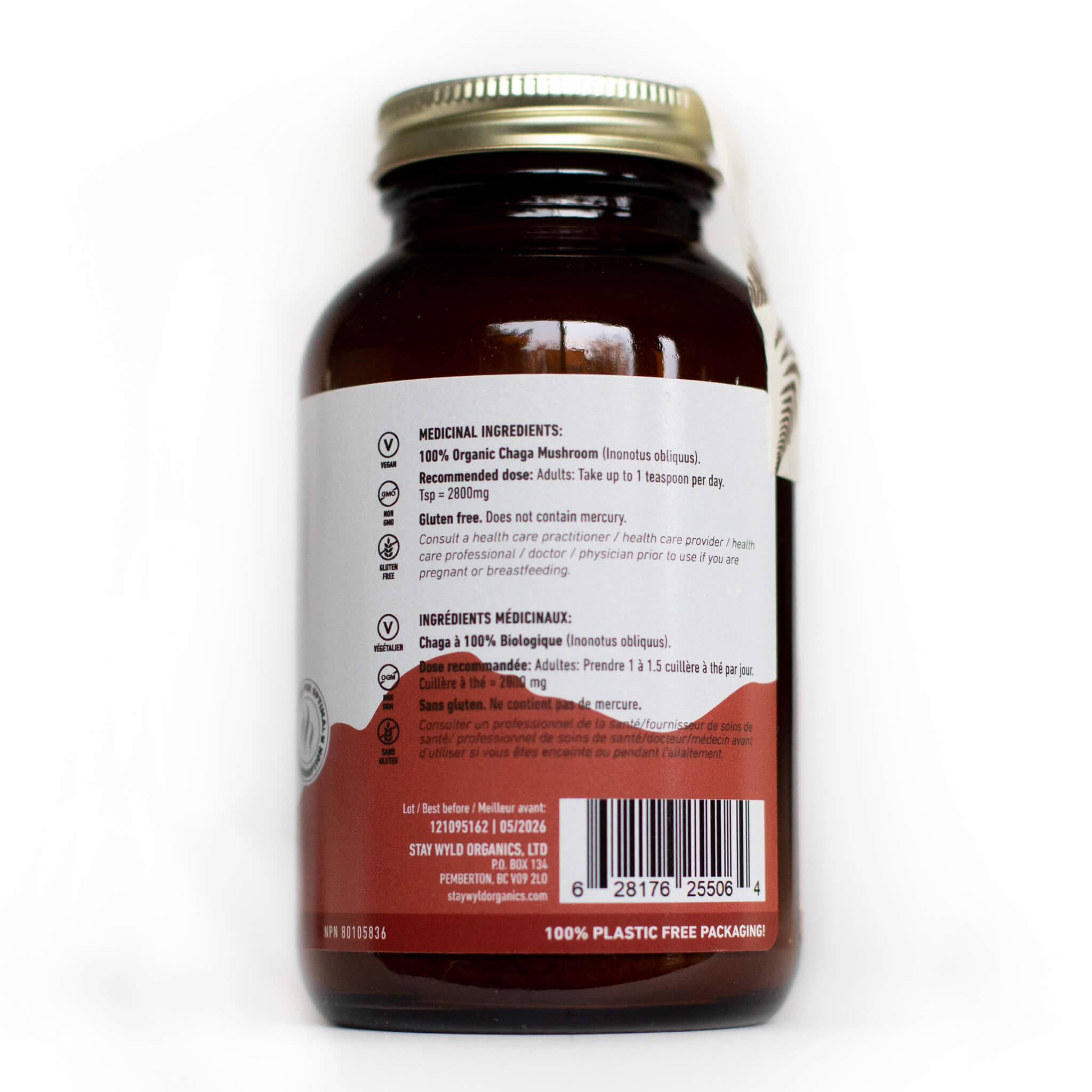 Antioxidant & Wellness Boost
Discover the power of our Chaga Mushroom Powder, a versatile and potent supplement designed to enhance your daily health routine. Sustainably harvested from birch trees and naturally processed, our Chaga mushrooms provide an easy-to-use and high-quality powder form, perfect for those seeking natural ways to support their well-being.
Chaga is a unique fungus composed of a mass of mycelium, valued for its impressive health benefits. Rich in antioxidants and known for its anti-inflammatory properties, Chaga has been utilized for centuries in traditional medicine to promote overall health and well-being. Organic Inonotus obliquus, found in our Chaga mushroom powder, helps maintain cellular integrity, combat free radicals, and support gastrointestinal health.
Our commitment to quality ensures that our mushroom products are always vegan, non-GMO, and gluten-free, providing you with the highest purity and effectiveness. With our Chaga powder, you can effortlessly integrate this beneficial supplement into your daily routine and enjoy its numerous advantages.
Potential benefits of Chaga Mushroom Powder:
Supports immune system function

Reduces inflammation

Promotes gastrointestinal health

High in antioxidants to fight free radicals

Helps lower cholesterol levels

Aids in stress reduction

Supports overall health and well-being
Not only is our Chaga powder ideal for bolstering the immune system, reducing stress, and lowering cholesterol levels, but it's also incredibly versatile. You can tincture, decoct, encapsulate, or even blend it into a delicious mushroom hot chocolate, tea, or coffee.
Chaga Mushroom Powder Ingredients:
Organic Chaga Mushrooms (Inonotus obliquus)
Read more about our Chaga Mushroom Powder ingredients below and learn more about Chaga Mushrooms here!
*These statements have not been evaluated by the Food and Drug Administration. This product is not intended to diagnose, treat, cure or prevent any disease.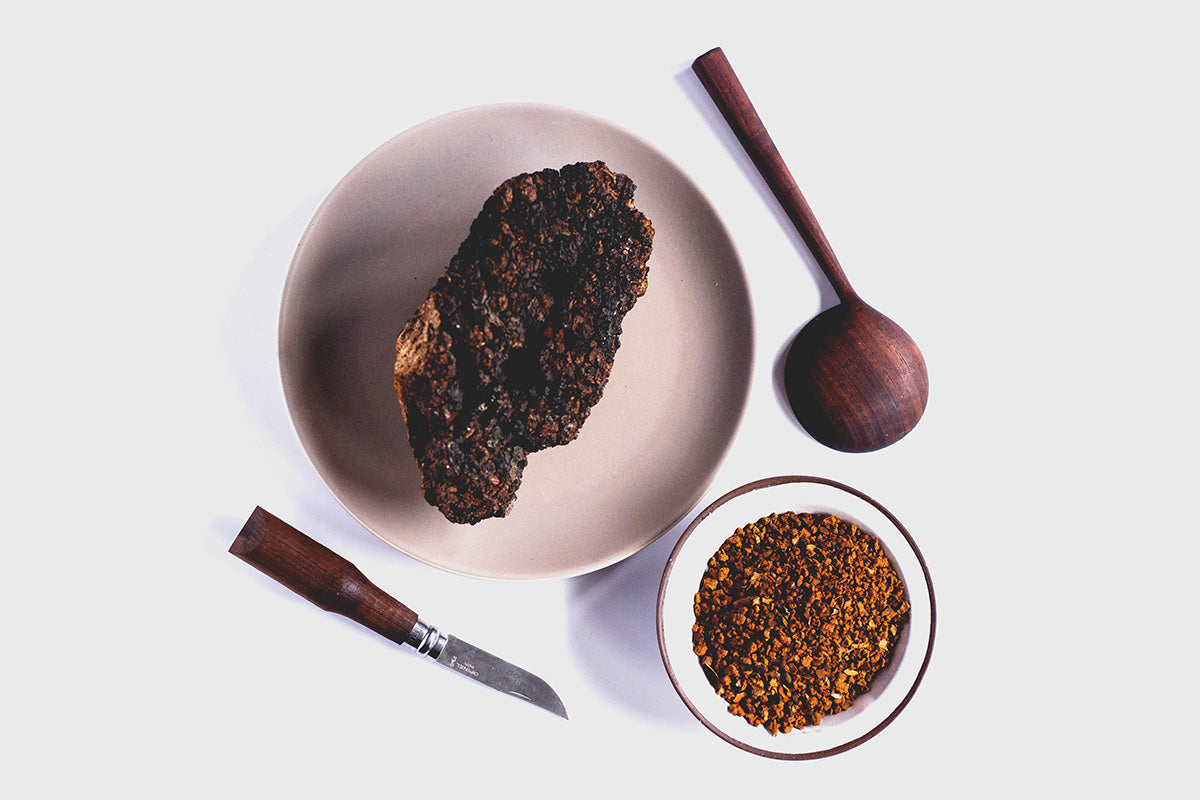 More About
Chaga Mushroom Powder
Frequently Asked Questions
No they will not. None of our functional mushroom products contain psychoactive compounds.
Our mushrooms are certified organic by Pro-Cert. We follow the strictest organic guidelines in the world.
Stay Wyld's commitment to provide you with the healthiest and highest quality mushroom products available starts at our state of the art mushroom grow facility in BC, Canada. Canadian food products adhere to high standards and levels of control. We are able to control the entire process here to ensure the highest quality mushroom products for you. Just like you, we want to know where our food and supplements actually come from.
The shelf life of Stay Wyld mushroom powder products is four years from initial processing. Our Grow Your Own Kits have a shelf life of 6-8 months if stored in a refrigerator.
Daily health !
Add this powder to my smoothie daily and it's awesome.
Love my Chaga
These capsules are the best. I take a bottle everywhere I go. So many health benefits from Chaga, that's why they are part of my everyday routine.
I really notice how they have helped rid my body of inflammation.
Absolutely the best chaga mushroom
Absolutely the best chaga mushroom powder thus far! excellent packaging, dark glass jars. Perfect.
Love Chaga powder in my coffee every morning
Absolutely love this product and brand. Highly recommend.
Thanks Nic! We're flattered you're adding Stay Wyld Organics Medicinal Mushrooms to your daily routine!