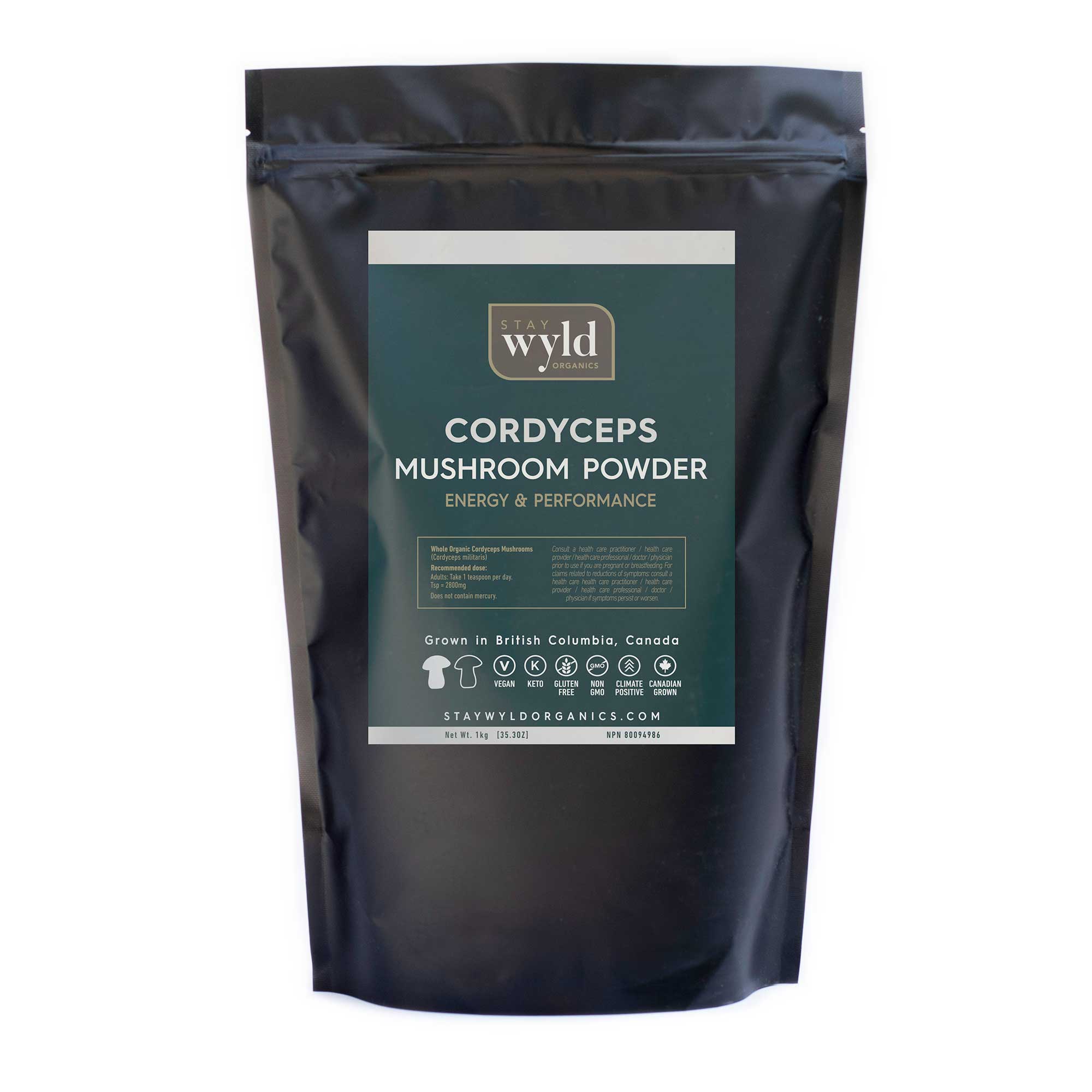 Bulk Cordyceps Supplement Mushroom Powder (1kg)
Discover the ultimate energy boost with our bulk supply of Cordyceps Powder.
Experience the invigorating power of our organic Cordyceps powder in a bulk supplement, specially crafted to elevate your athletic performance, enhance your vitality, and support your overall well-being. As a premium source of Cordyceps powder, our carefully grown medicinal mushrooms offer a wide range of benefits that are ideal for active individuals seeking a natural edge.
Boost athletic performance:

Enhance stamina, endurance, and oxygen utilization for improved physical capabilities.

Support immune function:

Rich in antioxidants, Cordyceps mushrooms help fortify the immune system and protect against free radicals.

Promote heart and kidney health:

Contribute to overall well-being by supporting these vital organs.

Increase libido:

Known for its aphrodisiac properties, Cordyceps can help revitalize sexual vigor and performance.

Natural energy enhancer:

Improves energy management, providing a sustained boost throughout the day.
Transform your daily routine with our Bulk Cordyceps Powder and experience the life-enhancing benefits for yourself. Our Cordyceps powder supplement is the functional mushroom that'll help you Stay Wyld and energized.
How to Use:
Easily incorporate 1 teaspoon per a day of Cordyceps powder into your favorite smoothies, teas, or recipes for a nourishing and energizing addition.
Cordyceps Powder Ingredients:
Organic Cordyceps Mushrooms (Cordyceps militaris)
Read more about our Cordyceps Mushroom Capsules ingredients below and learn more about Cordyceps Mushrooms here!
----
Medicinal ingredients: Organic Cordyceps (Cordyceps militaris - whole mushroom)

Bag Quantity: 1 kg powder

Recommended dose: Adults: Take up to 1 teaspoon per day. Tsp = 2800mg

Gluten free. Does not contain mercury.

Consult a health care practitioner/health care provider/health care professional/ doctor/physician prior to use if you are pregnant or breastfeeding. For claims related to reductions of symptoms: Consult a health care practitioner / health care provider / health care professional/doctor/physician if symptoms persist or worsen.
*These health statements have not been evaluated by the Food and Drug Administration. This product is not intended to diagnose, treat, cure, or prevent any disease. For more information on Cordyceps Mushrooms, please visit Health Canada.
*These statements have not been evaluated by the Food and Drug Administration. This product is not intended to diagnose, treat, cure or prevent any disease.
Frequently Asked Questions
No they will not. None of our functional mushroom products contain psychoactive compounds.
Our mushrooms are certified organic by Pro-Cert. We follow the strictest organic guidelines in the world.
Stay Wyld's commitment to provide you with the healthiest and highest quality mushroom products available starts at our state of the art mushroom grow facility in BC, Canada. Canadian food products adhere to high standards and levels of control. We are able to control the entire process here to ensure the highest quality mushroom products for you. Just like you, we want to know where our food and supplements actually come from.
The shelf life of Stay Wyld mushroom powder products is four years from initial processing. Our Grow Your Own Kits have a shelf life of 6-8 months if stored in a refrigerator.
Highly Recommend
If you need that extra something to get you through the day, this is it. Two of these as I walk out the door is just the ticket to get the energy flowing and clear the brain fog. Thank you for packaging such a good product!
You need this!
You need to start taking these! Starting feeling better in 1 week...these are a must in everyone's life❤️
Energize me up!
I totally feel a difference in my day when I take my cordyceps - it's a smooth all day enegry without peaks and valleys - my kind of mushrooms!
My fav
Been taking these for years - first time taking this brand. Looking forward to the benefits
New to products
I've been taking cordyceps for almost a month now and starting to feel that I am a little more energized. I work a lot of night shifts and some days it's just hard to get going. This has seemed to start helping.