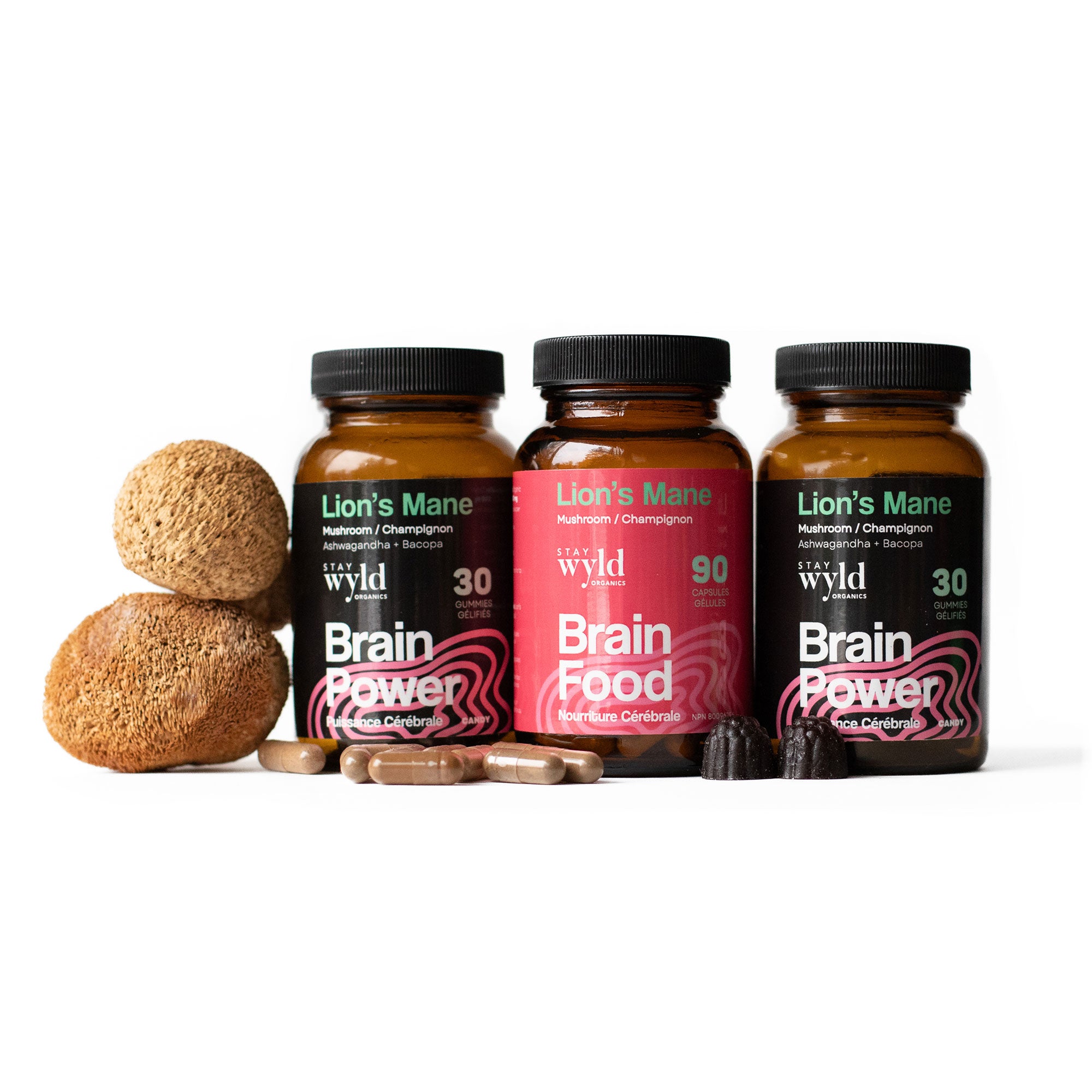 Save $20!
Our whole company exists because of the healing our founder had when he treated his concussion symptoms with Lion's Mane. Now that his concussed days are far behind him, he's maintained his daily Lion's Mane consumption because of its focus on Brain Health Promotion.
We put together this bundle because it's our two favourites… capsules of our Organic Lion's Mane and then the trifecta of focus found in our Brain Power Gummies. Together, you'll start your day with capsules and then enjoy a gummy as needed.
The gummies are made from our 100% organic Lion's Mane Mushroom extract and then combined with Ashwagandha and Brahmi Bacopa to deliver a powerful blend of nutrients that will help you stay focused, energized, and mentally sharp throughout the day. 
Feed Your Brain!
Included in this bundle:
1 x Brain Food Lion's Mane Mushroom Capsules
2 x Brain Power Lion's Mane Mushroom Gummies
*These statements have not been evaluated by the Food and Drug Administration. This product is not intended to diagnose, treat, cure or prevent any disease.
Frequently Asked Questions
No they will not. None of our functional mushroom products contain psychoactive compounds.
Our mushrooms are certified organic by Pro-Cert. We follow the strictest organic guidelines in the world.
Stay Wyld's commitment to provide you with the healthiest and highest quality mushroom products available starts at our state of the art mushroom grow facility in BC, Canada. Canadian food products adhere to high standards and levels of control. We are able to control the entire process here to ensure the highest quality mushroom products for you. Just like you, we want to know where our food and supplements actually come from.
The shelf life of Stay Wyld mushroom powder products is four years from initial processing. Our Grow Your Own Kits have a shelf life of 6-8 months if stored in a refrigerator.
Not as stressed more focused
Love your products except the gummies. Couldn't keep it down. The Be Well, Brain Food,Stress Less are awesome and I can feel them working their magic
Increased mental clarity
Since taking the lion's mane gummies and capsules daily, I've experienced more mental clarity and focus. Organization and productivity appears to have improved as a result.
I am very interested in lions
I am very interested in lions mane, but I noticed that you use magnesium stearate which is basically poison. Is it possible to get your lines mean without this ingredient?